CLICK TO BROWSE ALL FLIGHT OPTIONS

Travelling by train is an unforgettable experience and is perhaps the most picturesque way to get from La Paz to the South of the country.
We offer a train ticket booking service for the main train line route in Boliva that runs from Oruro down to Uyuni, Tupiza, the two main starting points for salt flats tours, and onto Villazón, the bordertown with Argentina
We can also arrange the trains tickets for the same routes running from the South stations up to Oruro Train station
Trains leave only four times a week - please see the below products for exact details of each route.
NEWS & STATUS OF TRAIN ROUTES
Due to a landslide during rainy season currently the line between Uyuni – Tupiza – Villazon is not operating. It was due to reopen in July but current estimates are that it will not reopen until December 2018.
We will provide updated information here when we know more details
Updated 17/7/18
If fitting in your itinerary, we definitely recommend you consider this option when planning your trip to the South of Bolivia and especially during rainy season when the road to Uyuni can become hazardous - travelling by train is definately a safer and more recommended way to travel during the worst of the rainy season to Uyuni.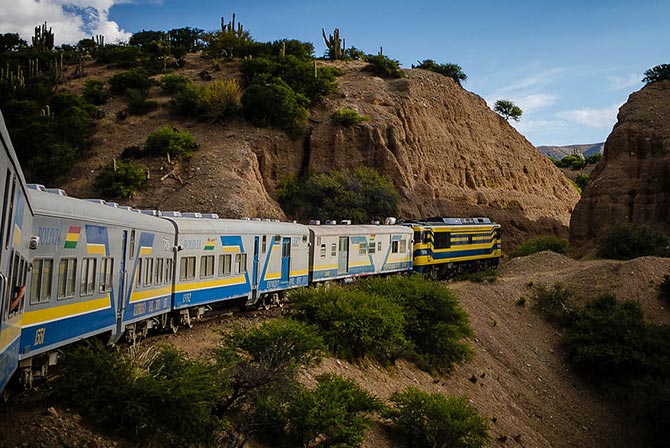 Please note that the trains usually do completely book out so it is recommended to give at least at few days notice for any bookings that you wish to make.
Also tickets can only be issued during office hours Mon to Fri so please allow for this when placing your order
BOOKING TRAIN TICKETS
The ticketing office for train tickets in La Paz used to be located in the Sopocachi area of the city which was not too far from the center, although the office could be tricky to spot.
It has now moved to the Achumani area in Zona Sur and is even harder to find for those who do not know the area plus a taxi from the center to there would cost around 30 to 40 Bob each way.
You can save money by simply buying the ticket through us!
You can book and pay online and we will send you your tickets electronically.
Please browse through the different ticket options below for full details.