Step by Step Guide to Booking on Our Web Site
Our online booking system offers the ability to book tours, transport and accommodation options and pay with a credit card. This means our customers can choose the tours and transport they require and receive a confirmed booking as soon as we have had a chance to check availability and get back to you. In the majority of cases this is within 24 to 48 hours but we ask for at least 48 hours notice in order to allow for weekend and holiday working hours. If you decide to place an order without sufficient notice we might not see it in time and therefore not get processed. We advise that you try to give us longer in order to give yourself the best chance of getting the requested dates though as many things do get booked up during busy periods. We are not responsible for any problems that you experience for not giving us enough time to arrange your booking - we do warn you of this in multiple places!

When you place an order by credit card with us this will place an AUTHORISATION on your card but not take payment yet. After we have checked your order we will CAPTURE those funds if the order is confirmed.


Step 1 - Find What You Want - Browse, Search, Filter
You can either browse the site looking through the menus which are organised by countries & various categories to find inspiration for things to do or if you are looking for something specific you can use the search facility at the top of the page. Also you can also filter the results on each category pages in order to display just what you are looking for choosing to limit results by attributes like "Tour Type" or for transport starting and ending locations. We try to provide as many ways as possible to make it easy for you to find what you need.
If you can't find something you want contact us and ask as we may be able to arrange it for you anyway if we do not already have the product on the site. If we can, we will then create a special product link for you to book online.
You will see at the bottom of the page for each product there are some booking form fields - different products might have different boxes as the information we require can change depending on the option. Please fill in ALL the required information to enable us to process your booking as fast as possible. If you miss any required information we will then have to contact you for this and cannot process the order until we have it – obviously this can slow the process down. Once you have filled in the form details you must ADD the product to the SHOPPING CART by clicking the ADD TO CART button. Please note that this just ADDS TO CART and doesn't place the order yet – you will need to checkout and pay before anything is sent to us. This is you just shopping not actually going to the till to pay yet!


MULTIPLE PERSON BOOKINGS & GROUPS
For most products if you want to book for more than one person you simply change the Qty box at the bottom to be the amount of people you wish to book for and include all persons details (name, passport etc.) in the form boxes provided. For some items though the price changes when there is a larger group size (it is cheaper the more people there are) so our system is configured for you to book "per group" for those products. This is because we need to ensure that you can only book for the "4 person price" if you are paying for 4 people. These products will have a dropdown form box that lists the different groups' sizes and their corresponding prices. You should book and pay for just ONE GROUP (do not change the Qty box) in these cases. Examples of these group booking options can be found in the trekking categories.


Below is an example of a typical form for one of our products (this one is a Tiwanaku Day Tour) and the information that could possibly be filled in (N.B. - all dates are in DAY/MONTH/YEAR format )



N. B. - Whilst we do our best to fulfill every booking request this depends on availability so request is not a guarantee of space.
Please note that clicking on ADD TO CART just puts this item in your SHOPPING CART – IT DOES NOT send us any information or "requests". We will not receive your order until after you have checked out and paid (following the steps below).
Simply repeat this process to add any other products you wish to book, adding each to the cart each time. You can view the contents of your shopping cart by clicking on the cart link in the top right of the page (this should be displaying the number of items in your cart also). The cart page will look something like this:

It will show you the details you have entered, the total price plus the payment processing fee that is added on automatically to cover the credit processing charges. You choose to remove and items from the cart here, continue shopping or proceed to the checkout to finalise everything.
Step 2 - Checkout, Confirm & Pay
Once you have added all the products you wish to book into your shopping cart you can move onto the next stage – Checking Out. To checkout you simply click on the Proceed to Checkout button in the shopping cart or in the minisummary cart that drops down when you hover over the cart button. There is also the opportunity to proceed to checkout immediately after adding to the cart when you are shown a confirmation prompt box with this choice. The checkout page will look as follows: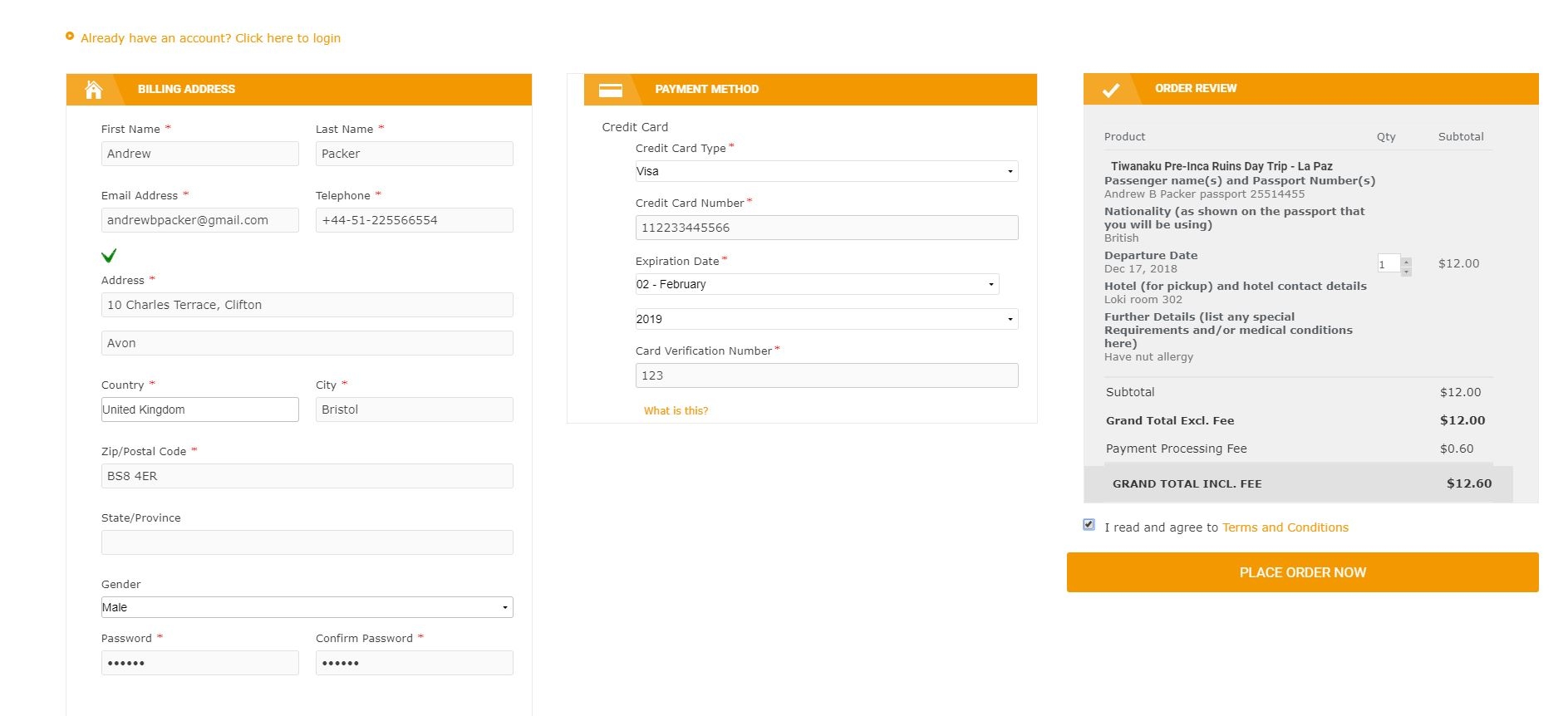 You will need to fill in the form with your own details or, if you already have an account with us, you can log in and retrieve your stored address details (you will need to put credit card details in again as we do not store them or have access to them).
IMPORTANT - You must make sure the address and name details for the account that you enter are the same that are on file for the card you are using, any mistakes will result in your payment being rejected.
After filling in the Account and payment forms, check the Order Review section and read the Terms & Conditions - you must confirm you have read and agree to these by checking the confirmation box.

When you are ready click on the PLACE ORDER NOW button and WAIT - order processing will take a little while, anything from from 5 seconds or so up to even as long as 30/40 seconds depending on internet connection speed and how busy the credit card processing servers are. DO NOT CLICK ON THE BUTTON AGAIN or you might place the order twice (if you do we will simply only process one and cancel the other mistaken authorisation you send us - so no problems).

Once the order is successfully placed you will be redirected to a confirmation screen that will give you an order number and confirm that your order was successfully placed. You will also receive a confirmation email to the email address you supplied in your account. We will then process your order and get back to you as soon as we can. Please note that we will send you details and information required, such as start time, where to go etc. when we send you your vouchers - please don't send us emails asking for this information as it just slows down processing of your and other people's orders.